About Cori Coating
My name is Conan Richards and I've always been keen on cars, just like my dad and his dad too. One of my earliest memories is spending time with my dad and Grandad on the weekends whilst they fixed up a rugged E36 M3 BMW sedan from 1992 powered by the S50 straight-six engine. My dad loved this car and it was a popular car in its day, being named in Car and Driver Magazine's 10 Best list for every year it was on sale.
My dad had found the BMW in Autotrader. It was a bit of a mess, having been pranged and then left and forgotten in a garage. However, this is just the weekend project that my dad and Grandad liked to take on. They let me help too, telling me their plans for the car and then letting me watch whilst they went to work. They had so much patience with me, answering my questions and letting me do work under their watchful eye. One of the things I found so fascinating was seeing the car come back to life with a new coat of paint and how it was possible to create a seamless colour throughout.
Apprenticeship and training
By the time I was a teenager, I knew I wanted to pursue a career in auto body repair painting. Whilst still at school, I started work at a local retail collision repair facility and soon began work as an apprentice motor vehicle body repairer, starting out with removing wax, grease and dust from the vehicle through to setting the booth to dry the paint.
After completing my apprenticeship, including accredited qualifications in auto body painting and auto repair body painting, I continued working and learning the trade with established specialists in the field before joining Cori Coating as a specialist in ceramic coatings.
Cori Coating specialists
Cori Coating specialises in paintwork recovery, paint protection, and premium maintenance care for both the exterior and interior of your vehicle. In addition to paint protection, Cori Coating also provides upholstery coating which helps prevent staining from food, soil, and other impurities of daily use, which helps to keep the car clean and extends the life of the interior.
Automotive factory paint finishes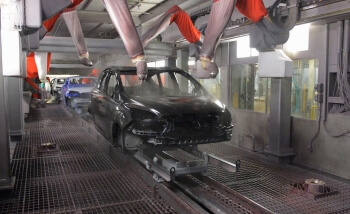 Nearly all automotive factory paint finishes are a base coat/clear coat system. This means that paint is applied in two stages, the first being the base or colour coat and the second is a clear coat which provides depth, gloss, and protection of the colour coat from damage and UV fading.
These paints are less likely to oxidise, meaning that cars look newer for longer. However, nearly all clear coat systems used in factories have weak chemical and dirt resistance, meaning they are easy to scratch. Also, the clear coat systems are not good at repelling water. Until ceramic coatings became available, the only way to protect the clear coat on a car was through waxing and sealants, but they didn't prevent scratching or swirls and neither did they offer resistance to chemicals and heat. They also need to be reapplied every few weeks or months, which is not a simple process.
Ceramic coatings
Ceramic coatings are liquid products, made from ceramic nano particles suspended in a clear resin that when applied, hardens and cross links into a virtually impermeable surface that is chemically bonded to your vehicle. If applied correctly, ceramic coatings will not delaminate or chip off the surface it is applied to.
Ceramic coatings are not paints, but they will bond to and protect paints like an extra layer of protection. Once set, or in car jargon 'cured', most ceramic coatings have an excellent ability to repel water, as well as increasing gloss and offering greater resistance to abrasion and chemicals, with additional UV blockers to prevent colour fading and oxidation. Ceramic coatings are NOT paints, but they will bond to and protect paints. Think of it as a second layer of skin, or a sacrificial layer or protection.
Ceramic coating brands
Whilst ceramic coatings are excellent protectors, there are many brands, some of which are available over the counter whilst others are only available to professionals. Over the counter ceramic coatings are generally easier to use, but do not offer the quality finish of professional-only products. Some installers may use cheaper brands to increase profits, so always ask which brand your installer is using. Most reputable brands will have reviews, and more information online about the claims of their product. If your detailer is making claims that don't match the product description by the manufacturer, look elsewhere.
The quality and durability of ceramic coats are determined not just by the brand, but by the skill in which the surface has been corrected and prepared for application of the coat.